East Greenland Sampling
The NE Greenland shelf is a frontier area for oil exploration with a high potential for hydrocarbon accumulations (USGS, 2007). Without any exploration well, the understanding of the offshore geology is based on correlating the onshore areas with the seismic data. Therefore new geological data were greatly needed to constrain the seismic data over the proposed blocks in the 2012-2013 licensing round, as well as completing work commitments following the license awards.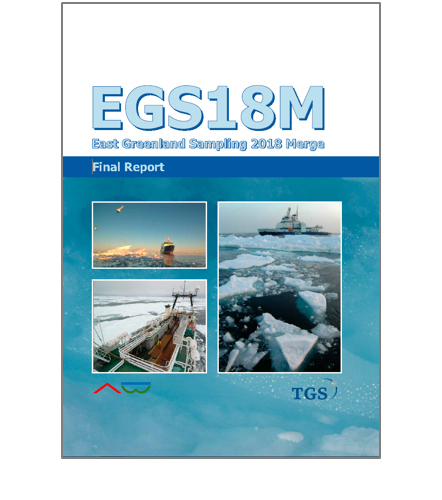 East Greenland Sampling - 2018 Merge 
Edited by Stephane Polteau, Adriano Mazzini, Sverre Planke, and
Reidun Myklebust.
This report presents the integrated interpretation of seismic data with the seep and stratigraphic results acquired during the EGS11, EGS12 and EGS16 seafloor sampling surveys completed in the region.
In total, 190 m of sediments cores were collected from 164 gravity core sampling stations based on TGS seismic data interpretation. The core samples targeted seep structures for organic geochemistry, and truncated strata for stratigraphic studies. Additional stratigraphic samples were recovered from escarpments using a dredge along 16 profiles across several outer marginal highs near the shelf edge.
The EGS18M report helps to constrain the interpretation of seismic data, basin development models with timing of oil generation, expulsion, migration and trapping mechanism, and to focus exploration efforts over specific targeted closures. In addition, the results presented here are directly relevant for exploring the conjugate SW Barents Sea and mid-Norway margin where pre-breakup Mesozoic successions are either deeply buried or covered by extensive basalt successions.
The digital data delivered with this report include each cruise reports, raw and processed geochemical and geophysical data, and unedited lab interpretation reports.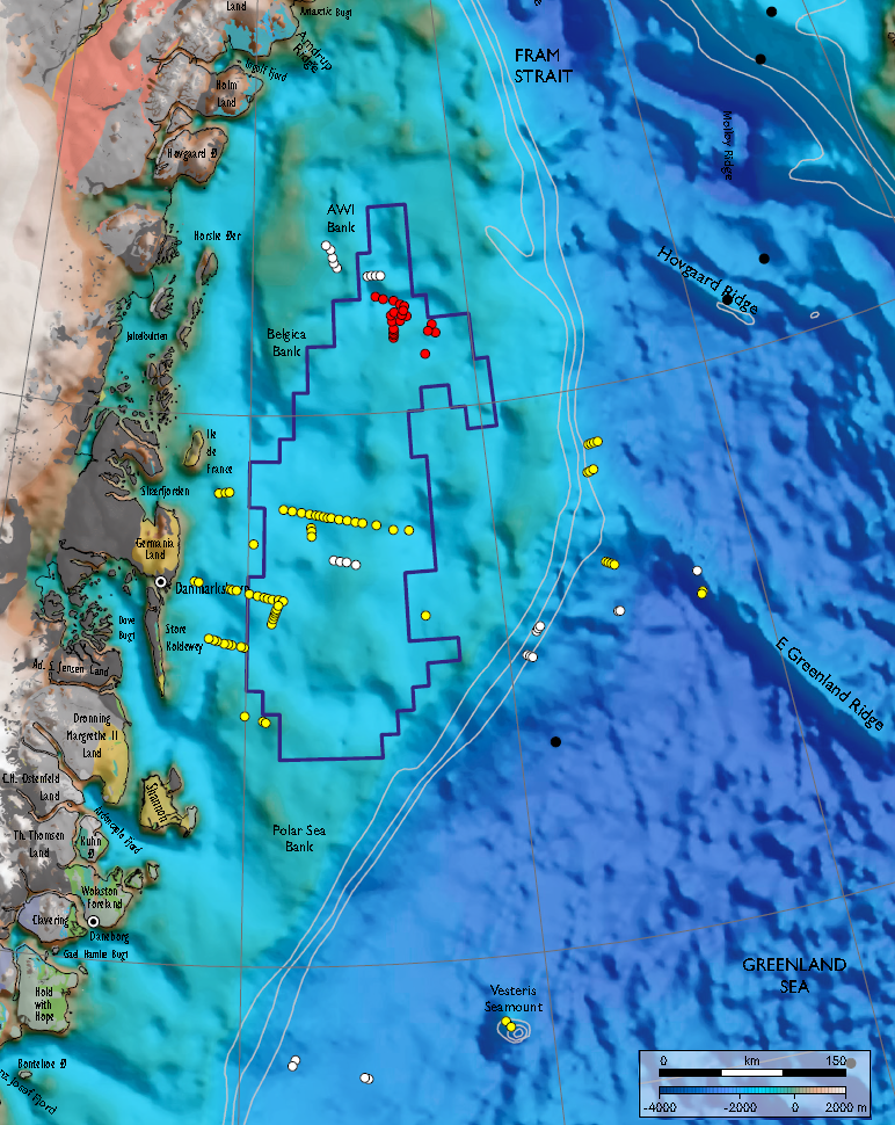 EGS11 (white), EGS12 (yellow) and EGS16 (red) sampling sites.
CONTENTS
---
Highlights
 Introduction
Background and aims
Exploration history
Structural development
Sedimentary basins
Methods  
Sampling strategy and operations
Handling of seep samples
Biostratigraphy
Organic geochemistry
Rock fragments - Source rock evaluation
Can samples - Seep studies
Amplified Geochemical Imaging (AGI)
Microbial Prospecting for Oil and Gas (MPOG)
Results
Sampling results
Biostratigraphy results
Cretaceous
Jurassic
Permian - Triassic
Carboniferous
Late Ordovician - Early Silurian
Source rock evaluation
Reservoir rock evaluation
Hydrocarbon signatures
Oil carbonates
APT seep results
AGI seep results
MPOG seep results
Discussion
Sampling subcrops
Lithostratigraphy
Petroleum system of NE Greenland
Geology of outer conjugate margins
Conclusions
Acknowledgements
References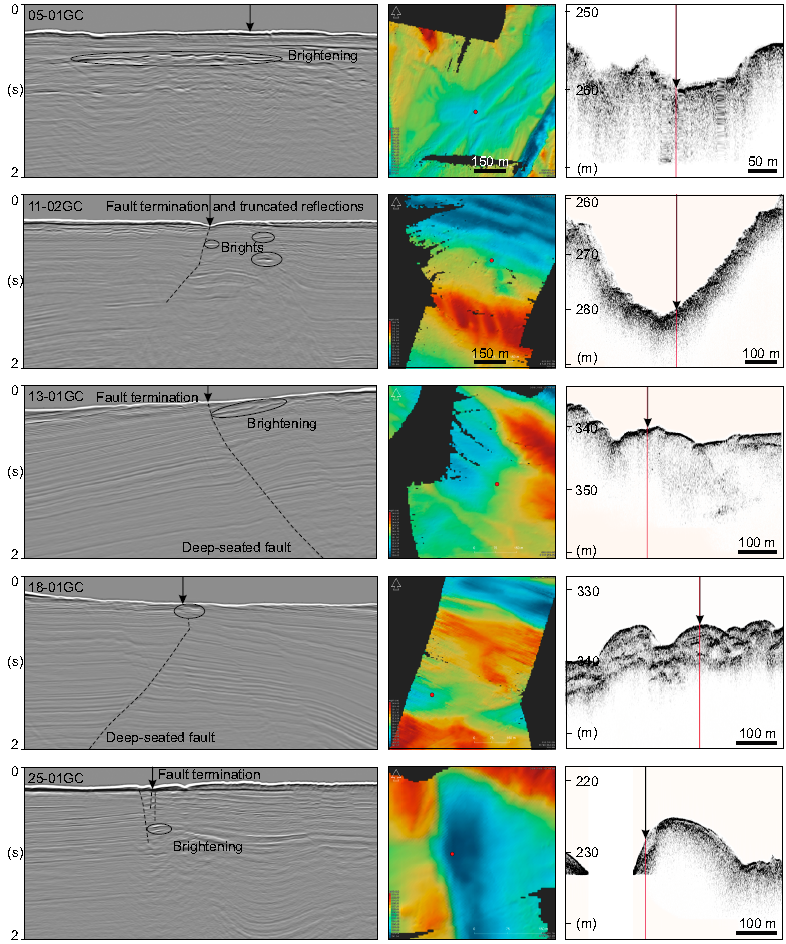 Seismic data showing the most common types of sampling targets, with corresponding bathymetry and sub-bottom
profiler data examples.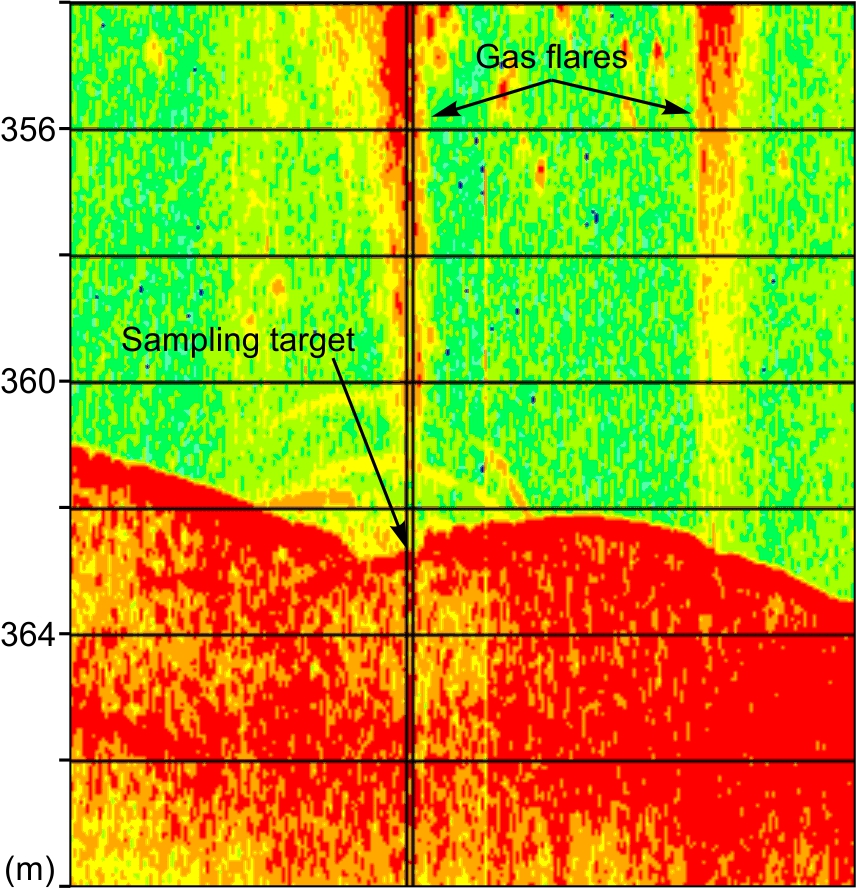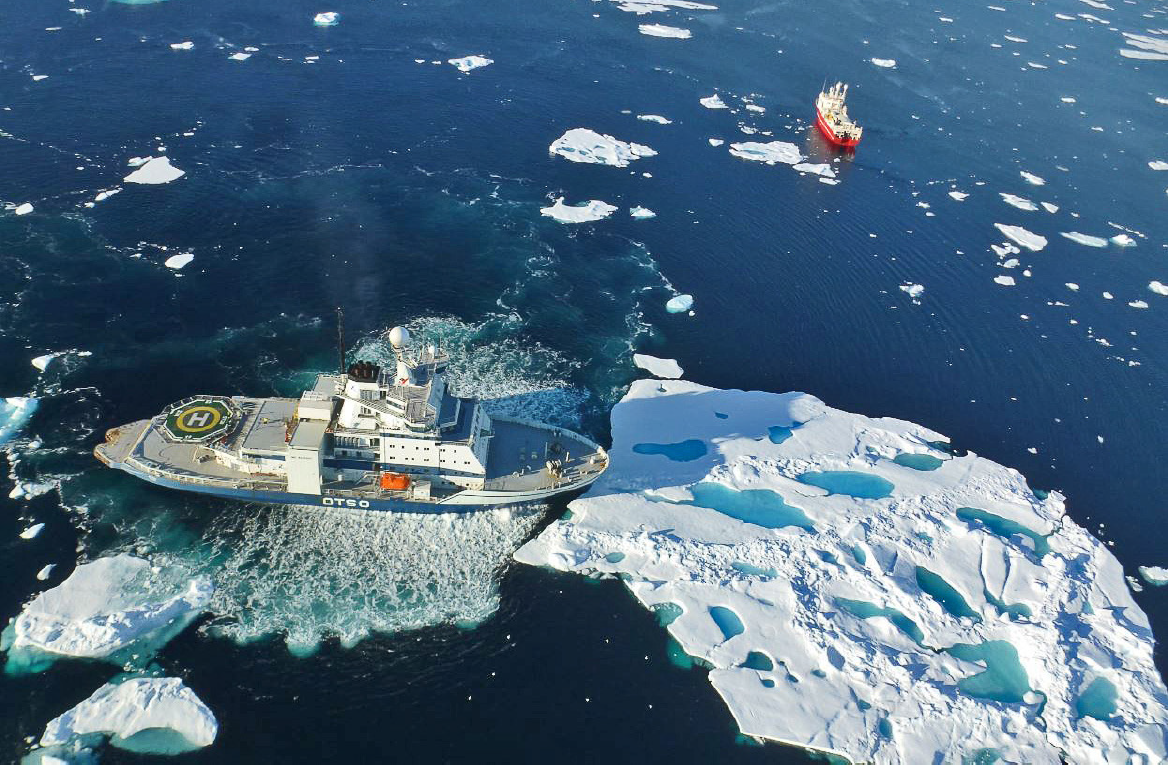 Ice braker for EGS16 operations