Argentina Field Trip
The high quality of exposures and fossil content in the Mesozoic rocks of the Neuquén Basin are strong interesting for the basin development research and hydrocarbon exploration.
---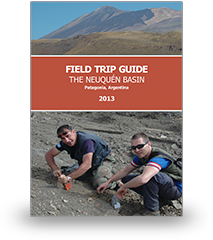 The five days field trip mainly focuses on the hydrocarbon systems and stratigraphy of the Neuquén Basin in the Patagonia region of Argentina. The main themes are:
Basin stratigraphy and development
Structure of fold and thrust belt (global focus)
Magmatism in sedimentary basins (global focus)
Great looking rocks
CONTENTS
---
Introduction
Field Trip Itinerary
Further Reading
The Andean Geotrail Project
The trip covers the main localities and landscapes of both Jurassic and Cretaceous outcrops from the Neuquén Basin as well as the Cenozoic volcanic complexes around the Tromen volcano. The quality of outcrops, good roads, and excellent infrasturcture in the field areas make exciting place to visit for the geoscientists from all over the world. Field trips can be specially organised on individual company request.

The Neuquén Basin
Geodynamic Framework
Stratigraphy
Igneous Rocks and Processes
Field Trips
Day 1: Nequén-Zapal
Day 2: Zapala-Chos Malal
Day 3: Chos Malal Region
Day 4: Chos Malal-Malargüe
Day 5: Malargüe-Mendoza