Hebrides Field Trip
The Hebrides of Scotland comprise some of the best locations globally for exploring the links between magmatism and petroleum basins, be it from source rock maturation surrounding sills, sill emplacement and migration, overburden deformation and hydrothermal vents, volcanic reservoir analogues, seismic scale volcanic sequences to sealing potential etc.
---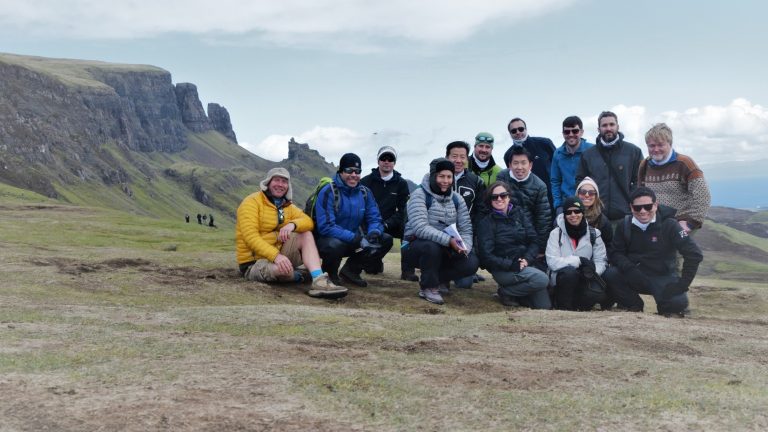 CONTENTS
---
Logistics summary
Motivation
Geological Setting
Mesozoic sedimentation
Paleogene volcanics
Field localities
Field-trip
Isle of Skye
Isle of Mull
Few places offer such a range of key volcanic basin features, with the added advantage of an expansive associated literature spanning back over 150 years. Fieldwork remains invaluable for building a robust understanding of subsurface geology perhaps even more so in challenging imaging and operational settings such as pre-salt, sub- and intra-basalt. In this light, it is great to see the Hebridean volcanics providing key learning for exploration and development in other volcanic basin settings around the world.
Recent Field Work
In October 2018 the VMAPP project ran a fieldtrip to the Isles of Skye and Mull for a 15 strong group led by Prof. Dougal A. Jerram (DougalEARTH), Dr. John M. Millett (VBPR) and Prof. Sverre Planke (VBPR), taking in many spectacular outcrops including Berreraig, Loch Coruisk, Staffa and Carsaig Bay.
In May 2019 another great geological field course focusing on the Paleogene volcanic districts of the Hebrides was run by VBPR, DougalEarth and Breno Waichal from Florianopolis University as part of the VMAPP project. Geoscientists from Petrobras and CNPC joined to study the interactions between volcanism and prospective sedimentary basins. The field course focused on sill-aureole interactions, hydrothermal vent complexes and various aspects of seismic imaging in volcanic basins ranging from sub-basalt to sill complexes.