West Greenland Field Trip
Purpose and Field Trip Themes
---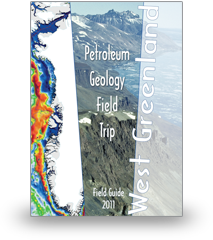 This multi-client field trip has been offered to the oil and gas companies in order to integrate field observations with seismic data and regional models of the West Greenland basins. The main field trip themes are:
Properties and deposition of Upper Cretaceous and Paleocene clastic sequences
Oil seeps and evidence of multiple source rocks
Facies variations and petroleum implications of Paleocene volcanic rocks
In addition, the region gives a unique opportunity to view ice sheet dynamics, in particular fast-flowing ice-streams transporting large volumes of glacial sediments out on the shelf. Six localities - two of which will be visited on a helicopter round-trip - will highlight the geological setting of the basin and show the characteristic rock types and oil seep localities. The localities will not necessarily be visited in the same order as they are described in this guide, since logistics will be strongly dependent on weather.
CONTENTS
---
Synthesis and Conclusions
Executive Summary
Geological Framework
Petroleum Systems
West Kamchatka Region
Geophysical Maps
Integrated SGM Interpretation and Modeling
Data, Methods, and References

Disko-Nuussuaq Geology