Barent Sea Sampling 2014 Reprocessed
Edited by Stéphane Polteau, Nina Lebedeva-Ivanova, Mikal Trulsvik, Sverre Planke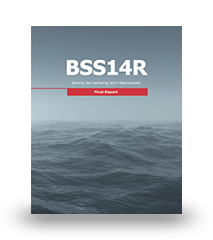 The main objectives were to re-evaluate the seep database acquired in 2014 (BSS14), incorporate additional calibration points and develop a workflow for improved identification of hydrocarbon phase in seep data and ranking of exploration targets in undrilled areas.
The comprehensive BSS14R report includes a calibration study based on statistical analysis of seep data acquired near seven exploration wells during the BSS14 survey. The results of the calibration study were applied to the three areas in the Hoop and Barents SE areas. The results will be used to develop a workflow for ranking untested structures, and for improving the design of future seafloor sampling surveys.
Highlights
• Seep analysis method working - oil predicted in Gemini North (gas in Stø, oil in Snadd)
• Seep anomalies over Korpfjell suggested presence of hydrocarbons (gas in Stø and Kobbe)
• Confidence in extending the Wisting play by integrating seep data with P-Cable data
• Key parameter for de-risking charge for all steps of exploration programs
• Unique stratigraphic tie and source rock evaluation in Barents SE area
Database and deliverables
• Calibration study of 8 exploration wells in Hoop Area (35 sites)
• Reprocessed (post calibration) seepage analysis
• Hoop Area (3 profiles - 125 sites)
• Barents SE Area (7 profiles - 293 sites)
• Interpretation report and ArcGIS project
• Bathymetry and sub-bottom profiler data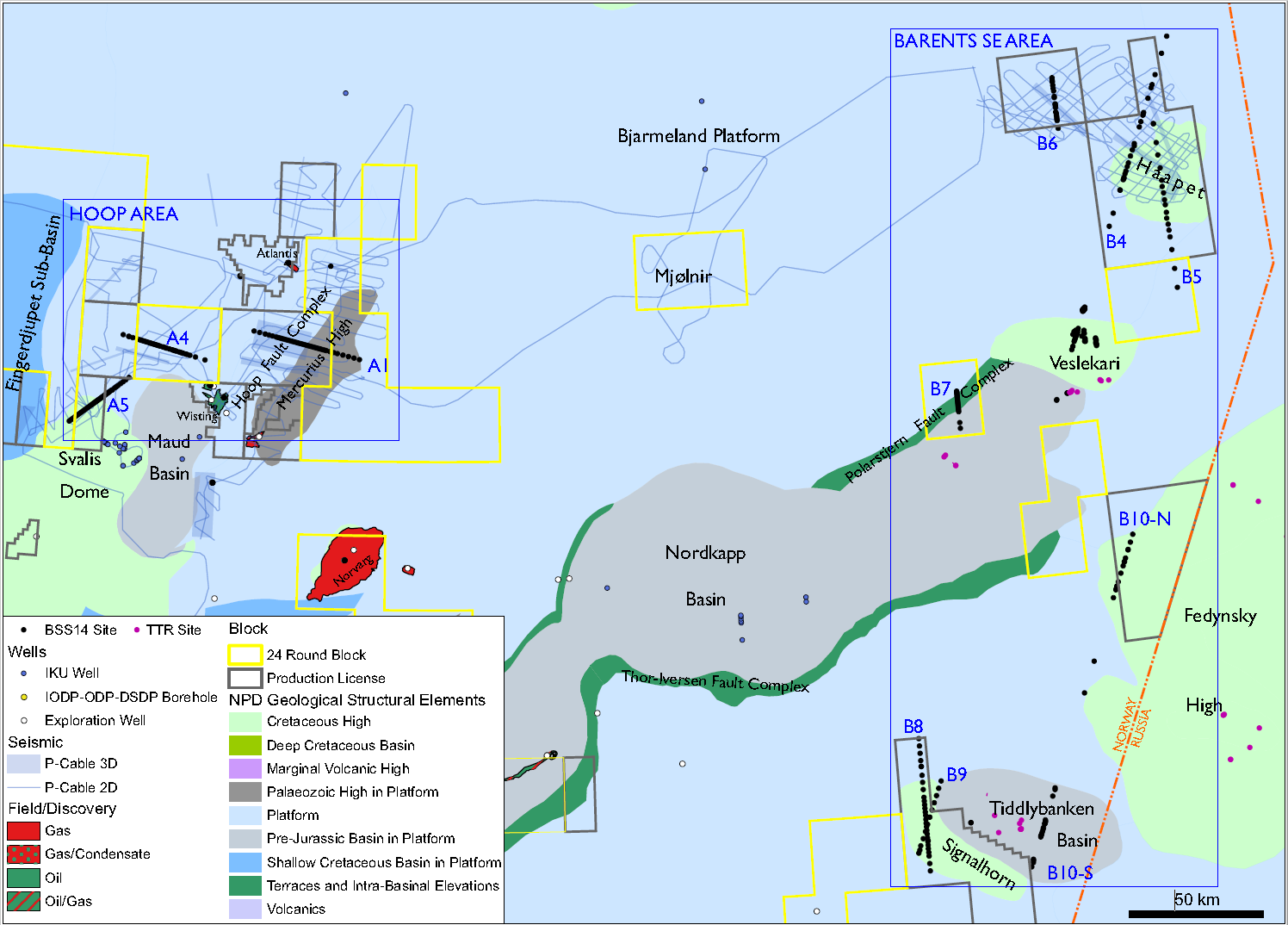 Map showing Hoop Area and Barents SE Area sampling sites and 24rd round blocks.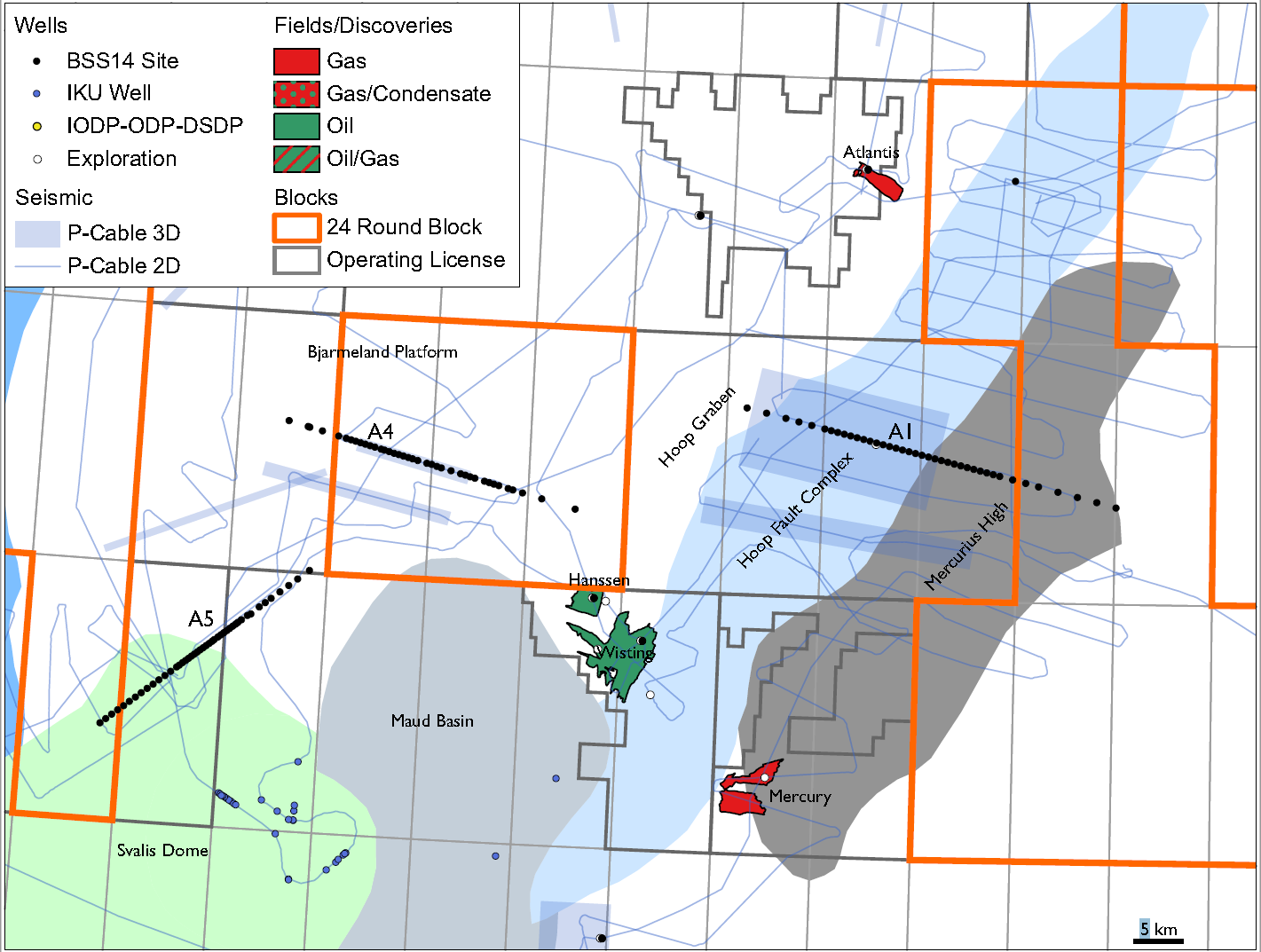 Map showing Hoop Area sampling sites and 24rd round blocks.
CONTENTS
---
Executive Summary
Introduction
• Geological Settings
• Aims/Operations
Hydrocarbon Seepage
• Seepage Style and Signatures
• Seep Dynamics
• Ascent Mechanisms
• Evaluation of Microseep Methods
Operations
• Overview
•  M/V Koningin Juliana
•  Diary of Events and Production Levels
Explanatory Notes
• Authorship
• Survey and Coring Systems
• Microbial and Geochemical Seep Analysis
• Sampling Subcrop
• Biostratigraphy
Well Calibration Study
• AGI Repro and MPOG Results
• Integration of AGI and MPOG Results
• Statistical Evaluation of Seep Results
• Wisting and Hanssen Discoveries
• Summary and Recommendations
BSS14R Results Hoop
• Individual Chapters for A1, A4, A5 Profiles
• Geophysics/Seep Results
• Integrations/Conclusions
BSS14R Results Barents SE
• Individual CXhapters for B4, B5, B6, B7, B8, B9, B10 Profiles
• Geophysics/Seep Results
• Integrations/Conclusions
Bibliography
Appendix A - Core Descriptions
Digital Data
• pdf version of report
• Seep results in ArcGIS project
• Reprocessed MBE and data