Geophysical Atlas of the East Greenland Basins
Compiled and edited by Mikal Trulsvik, Sverre Planke, Stephane Polteau and Reidun Myklebust.
---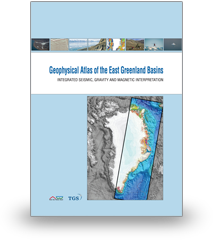 The Atlas is a comprehensive interpretation project based on the integrated seismic, gravity and magnetic (SGM) interpretation method. Focus is on the northeast Greenland margin and the 2012/2013 licensing round areas. The Atlas is a complete revision of the 2007-edition, and all available TGS seismic (NEG08/09 and reprocessed AWI 99/02/03) and airborne magnetic (NEGAM07/08) and gravity data (NEGAG07/08, NEG/AWI line data) were used to evaluate the structure and development of the NE Greenland margin.
Highlights
Onshore geology compiled and edited by GEUS
Map interpretations based on bathymetry, airborne magnetic and gravity surveys, and complex anomaly analyses
Magnetic and gravity anomaly interpretations
Nomenclature map for the whole East Greenland margin
Euler 3D depths to magnetic sources
Seismic interpretations supported by airborne magnetic and gravity line data
11 gravity/magnetic modeling transects across key anomalies
Basin modeling and assessment of hydrocarbon maturation potential across Danmarkshavn and Thetis basins using TecMod2D
Plate tectonic reconstruction and conjugate margin interpretation
Continent-ocean transition evaluation
Volcanic complex and sill intrusions
Petroleum implications of sill intrusions
The main focus of the atlas are:
petroleum potential of the sub-basalt acreage
to increase knowledge and understanding of the process that control breakup-related volcanism and their effect on the petroleum system
to give comprehensive overview of the structure and development of the outer Møre and Vøring basins based on SGM interpretation
seismic volcanostratigraphy for improved interpretation of basalt and sub-basalt prospects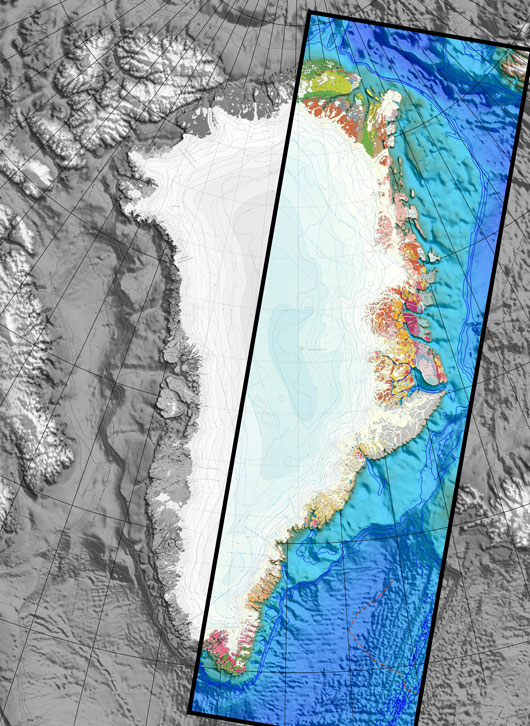 Map highlighting the area covered in the Atlas.


Geoseismic section NE Greenland
CONTENTS
---
Introduction
Executive Summary
Geological Framework
Greenland Maps
Northeast Atlantic
Northern East Greenland
Regional Maps
Thetis and Trolle Land Margins
Liverpool Land and Foster Margins
Southeast Greenland
Appendix

Modelling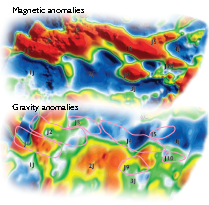 Grav-Mag anomalies