Edited by Stephane Polteau, S. Planke, and R. Myklebust
---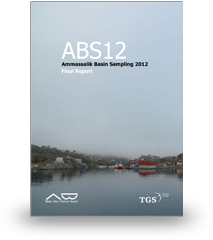 The ABS12 survey is located in a frontier area for oil and gas exploration offshore SE Greenland. A total of 21.75 m of sediments were recovered from nine coring sites. Most sites showed evidence of seepage of hydrocarbons, with strong oil smell at the bottom of the sections. Results from the cruise strongly suggest that Jurassic oil is actively seeping to the seafloor from a shallow and uplifted Jurassic reservoir.
The main focus of the atlas:
petroleum potential of the sub-basalt acreage
to increase knowledge and understanding of the process that control breakup-related volcanism and their effect on the petroleum system
to give comprehensive overview of the structure and development of the outer Møre and Vøring basins based on SGM interpretation
seismic volcanostratigraphy for improved interpretation of basalt and sub-basalt prospects
The results from this report is integrated in the "North Atlantic Margin Sampling 2018" project, NAMS18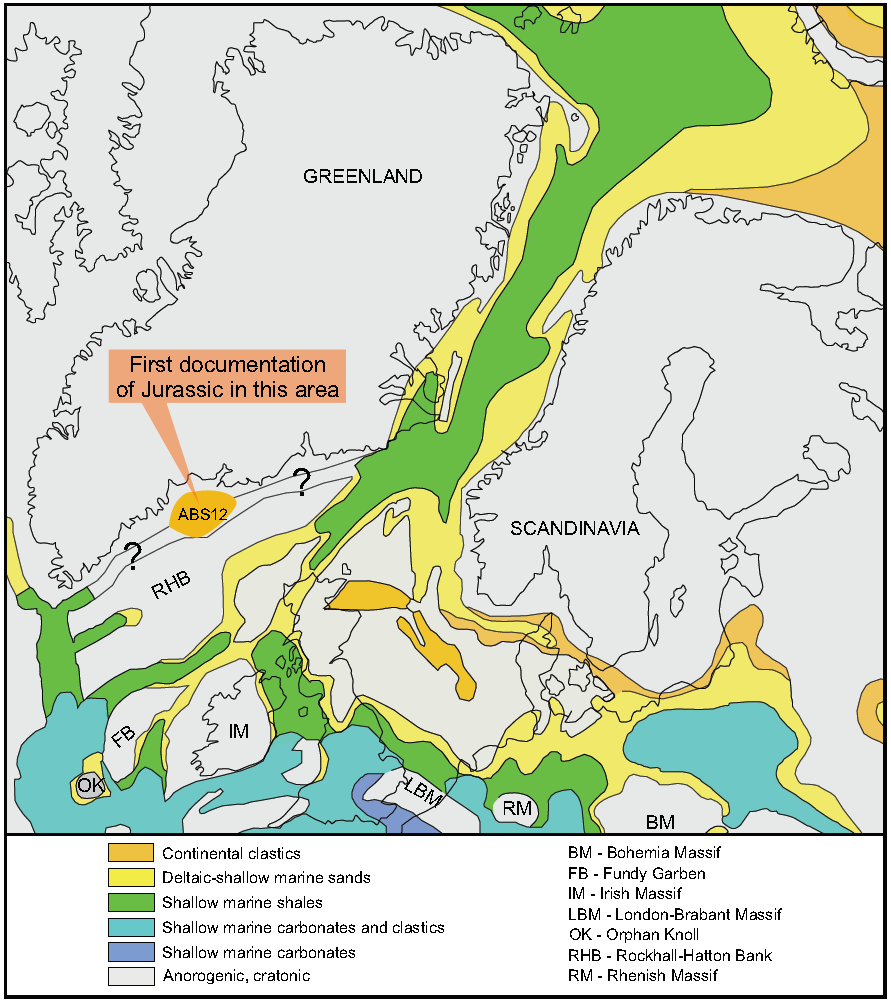 Middle Jurassic plate tectonic reconstruction.
Map modified from Ziegler (1999).

Seismic line with locations of sampling sites
CONTENTS
---
Executive Summary
Introduction
- Aims and background
- Presentation of Results
- Geological Framework
- Explortion and research history
Operations
- Overview
- M/V Sermilik II
- Coring Sites
- Deployment Procedures
- Recovery Procedures
- Dredge and Gravity Corer
Explanatory Notes
- Acknowledgements
- Navigation
- Sub-Bottom Profiler
- Sample Handling
- Gravity Core Samples
- Seep Samples
- Contamination of Samples
- Sample Descriptions
- Biostratigraphy
Results
- Sub-Bottom Profiler Data
- Headspace Gas Analysis
- Bulk Extract Geochemistry
- Biomarkers
- Aromatic Hydrocarbons
- Source Parameters
- Maturity Parameters
- Age-Related Parameters
- Biostratigraphy Results
- Range Charts
- Dredge Results
Conclusions
- Seep Studies
- TOC/Rock Eval
- Biostratigraphy
- Integrated Interpretation
- Conclusions
References
Appendix A
- Core and Dredge Description
- List of Symbols
Appendix B
- APT Report
- Biostratigraphy Report
- Sampling Equipment Specifications
Digital Data
- Original Reports and Data
- Reports and Appendices