Norwegian Continental Shelf Discovery Catalog
Compiled and edited by Mikal Trulsvik, Kelvin Taylor, and Sverre Planke.
---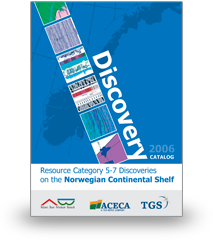 A complete guide to Resource Category (RC) 5-7 discoveries on the Norwegian Continental Shelf
The NCS Discovery Catalog covers all discoveries on the Norwegian Continental Shelf as per July 2006 classified as Resource Category 5, 6 and 7 under the Norwegian Petroleum Directorate's classification scheme. Data for each discovery are presented in a consistent layout comprising four facing pages highlighting regional overview, area potential, reservoir seismic, and well data.
The data presented for each of the 113 discoveries includes
key information and maps
regional seismic lines
interpreted reservoir seismic section
synthetic seismogram
reserves
well-data summary sheet
text boxes and tables highlighting geological plays, development scenario, production tests, reservoir characteristics, etc.
CONTENTS
---
Volume 1-3 | North Sea
Central Graben (56-58°N)
South Viking Graben (58-60°N)
North Viking Graben (60-62°N)
Volume 4 | Norwegian Sea
Volume 5 | Barents Sea